Für unsere Kinder am 18.09.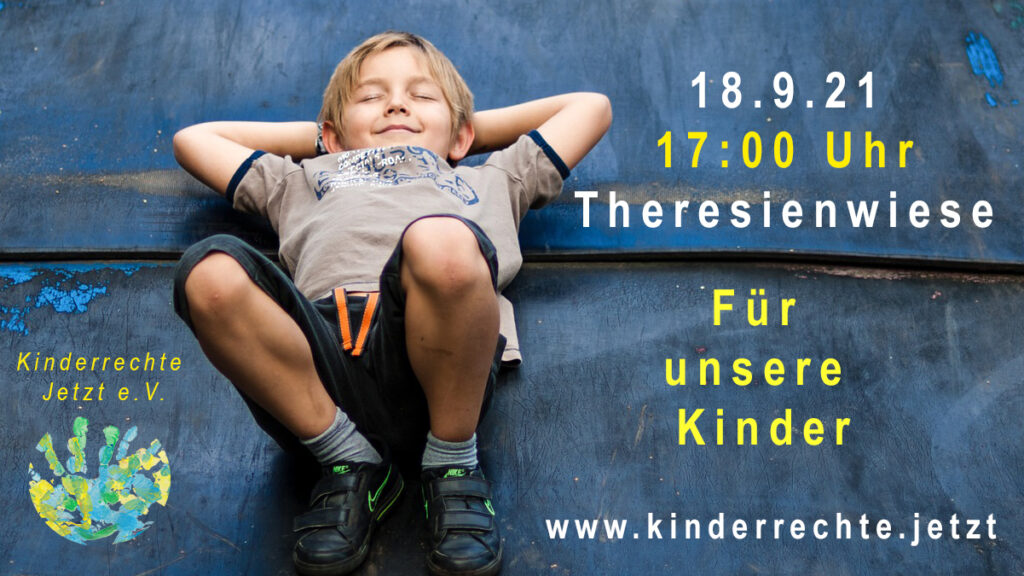 Aufruf zur Kundgebung am kommenden Samstag:
Am 18. September 2021 findet ab 17:00 Uhr auf der Theresienwiese eine Demonstration gegen die Einschränkung der Grundrechte statt. 
Wir sind ein unabhängiger überparteilicher Zusammenschluss von Medizinern und Rechtsanwälten, die sich zum Schutz der Kinder zusammengefunden haben, insbesondere um den Druck von ihnen zu nehmen, der aktuell durch die staatliche Kinderimpfkampagne aufgebaut wird. 
Der Druck auf die Bevölkerung wird immer größer, Grundrechte bleiben in Deutschland in nie gekanntem Ausmaße eingeschränkt, während im Ausland um uns herum die Restriktionen beendet wurden. 
Die Zulassung des Impfstoffs für die unter 12-Jährigen steht kurz vor der Beantragung, obwohl es noch nie einen Impfstoff gegeben hat mit einem derart gigantischen Nebenwirkungsprofil. Unsere Kinder werden in größte Gefahr gebracht, ohne dass sie einen Nutzen haben. Denn sie sind von COVID kaum betroffen.
Daher haben wir uns entschlossen, am 18.9. auf die Straße zu gehen und auf der Theresienwiese mit einem eigenen Stand vertreten zu sein. 
Wir freuen uns darauf, möglichst viele von Euch dort zu sehen! Jetzt ist es wichtig, Farbe zu bekennen und den Kindern eine freie und unbeschwerte Kindheit zu ermöglichen. 
Die Kundgebung wird organisiert von München steht auf. Um 15:00 Uhr geht ein Demonstrationszug vom Maxmonument los. Die Aufstellung beginnt ab 14:30 Uhr.
Statt wie sonst der Einzug der Wiesnwirte zum Oktoberfest-Start, wird es also einen Einzug der Demokraten geben. Weitere Informationen unter www.muenchen-steht-auf.de.
Englisch

On September 18th, 2021, starting at 5 p.m., a demonstration against the restriction of fundamental rights will take place on the Theresienwiese.
We are an independent, non-partisan (non-party) association of doctors and lawyers who have come together to protect children, in particular to take the pressure off them that is currently being built up by the state child vaccination campaign.
The pressure on the population is increasing. Fundamental rights remain restricted in Germany to an unprecedented extent, while the restrictions around us have been ended in other countries.
The approval of the vaccine for the under 12-year-olds is about to be applied for, although there has never been a vaccine with such a gigantic side effect profile. Our children are being put in great danger for no use. It is known that they are hardly affected.
We have therefore decided to take to the streets on September 18th and have our own stand on the Theresienwiese.
We are looking forward to seeing as many of you there as possible! Precisely now it is important to show your colours, stand up and be counted on this issue and enable the children to have a free and carefree childhod.
Hrvatski
18. rujna 2021 u 17:00 h na Theresienwiese se održava demonstracija protiv ograničavanja temeljnih građanskih prava.
Mi smo skupina nezavisnih i politički neutralnih medicinskih stručnjaka i odvjetnika, koji su se organizirali sa ciljem zaštite djece, poglavito u vezi smanjenja pritiska nastalog kroz državnu kampanju cijepljena protiv covida-19.
U Saveznoj Republici Njemačkoj pritisak na građane raste svakim danom sve više, ograničavanje građanska prava je doseglo povijesnu razinu, dok se u inozemstvu ukidaju sve pandemijske mjere.
Unatoč dosada nezabilježeno visokim brojem neželjenih reakcija na cjepiva protiv covida-19, vrlo uskoro se očekuje odobrenje cjepiva za djecu mlađu od 12 godina. Time se podliježu naša djeca viskom riziku, pošto covid predstavlja vrlo malenu opasnost za djecu.
Iz tog razloga smo se odlučili, 18.09. izaći na ulice i na Theresienwiese pokazati vlastitim primjerom, za što stojimo.
Nadamo se velikom odazivu!
Sada je trenutak odluke, pokažimo da nam je svijetla i radosna budućnost naše djece najbitnija!
Türkçe
18 Eylül 2021'de saat 17.00'den itibaren Theresienwiese'de temel hakların kısıtlanmasına karşı bir gösteri yapılacak.
Biz, çocukları korumak, özellikle de devlet çocuk aşılama kampanyasının oluşturduğu baskıyı azaltmak için bir araya gelen doktorlar ve avukatlardan oluşan bağımsız, tarafsız bir derneğiz.
Nüfus üzerindeki baskı artıyor, Almanya'da temel haklar eşi benzeri görülmemiş ölçüde kısıtlanmış durumdayken, diğer ülkelerde etrafımızdaki kısıtlamalar sona erdi.
Bu kadar devasa yan etki profiline sahip bir aşı daha önce görülmemiş olmasına rağmen, 12 yaş altı çocuklar için aşı onayı alınmak üzere. Çocuklarımız boş yere büyük tehlikeye atılıyor. Çünkü COVID'den pek etkilenmezler.
Bu nedenle 18 Eylül'e karar verdik. sokaklara çıkmak ve Theresienwiese'de kendi standınızla temsil edilmek.
Mümkün olduğu kadar çoğunu orada görmek için sabırsızlanıyoruz! Artık renklerinizi göstermek ve çocukların özgür ve kaygısız bir çocukluk geçirmelerini sağlamak önemlidir.
русский
18 сентября 2021 в 17.00 на Терезиенвизе, Мюнхен проходит демонстрация против ограничения конституционных прав человека.
Мы являемся  независимым, внепартийным объединением медиков и юристов, собравшихся с целью защитить детей от давления государственных прививочных компаний. 
Давление на население становится всё выше, базовые права в Германии остаются ограничены в доселе непознанном масштабе, в то время как в соседних странах вокруг нас снимаются и заканчиваются введенные ранее ограничения. 
Разрешение вакцинировать детей до 12 лет уже находится на рассмотрении, хотя ещё никогда не было вакцины со столь гигантским списком побочных явлений. Наших детей ставят в опасность, без какой-либо пользы для них. Так как COVID практически не распространяется на детей и подростков. 
Поэтому мы решили выйти на улицы 18.9. на Терезиенвизе и высказать свое мнение. 
Мы рады увидеть как можно больше людей на демонстрации! Сейчас важно открыто заявить свою позицию и вернуть возможность детям прожить свободное и лёгкое детство.